What Is A Marketing Agency?
23 Jun 2021
Agencies make up a considerable segment of the marketing industry, offering a wide variety of services.
Understanding what a marketing agency is and how they can help you feel like you look into the digital haze of the online marketing world.
So, what IS a marketing agency?
A marketing agency is a fairly generic term for a company that serves other businesses in one or more areas of marketing.
Remember the TV show, Mad Men? Don Draper worked for a fictional marketing agency that represented real agencies of the 1950s.
In the days of Men Men, marketing agencies filled a particular service, primarily ad creative and media buying, but in the digital age, things are a bit different.
Sometimes you'll hear terms thrown around like marketing firms or internet marketing service.
Marketing firms tend to stick to just one or two specific niches, for example, just SEO or Content. Yet, at the same time, agencies employ various experts in particular fields to offer a more comprehensive service.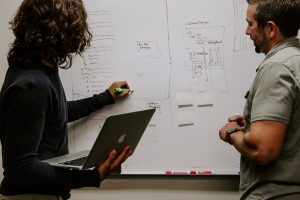 (READ: Why Use Hashtags On Facebook In 2021?)
What do Do Marketing Agencies do?
Agencies provide a range of different services and work with clients to fulfil their various needs.
These can include:
Digital Advertising: advertising on such platforms as Facebook, Instagram, Google, Pinterest, TikTok etc.
Graphic Design: creating different design elements for your website, logos, and ad creative
Content Creation: the creation of creative assets you need to successfully advertise your business online, such as video content and photography
Web Development: building and managing custom websites
SEO Management: helping to improve page rankings for your website, blog, or other online presence
Social Media Management: managing your social company on essential platforms like Facebook, Instagram, LinkedIn, and more
Funnel Building/Management: helping you build out, clean up, or manage the different funnels your customers will go through as they interact with your brand.
Copywriting: creating copy for emails, websites, advertisements, social media, and anywhere else people see your written word
Email Management: creating and tracking all your email campaigns
While methods, specialisations and approaches may differ, every marketing agency has the same goal, to drive results, which means providing more leads, more traffic and more sales to their clients.
(READ: Create Scroll-Stopping Content For Social Media)
When Would Someone Hire A Marketing Agency?
There are a few different reasons someone would hire a marketing agency. Here are the primary few.
You don't have the means to hire an internal marketing expert.
Finding and hiring new staff can be a time-consuming process. And hiring someone full time to look after your Facebook and Google campaigns can be expensive. If you don't have the financial capabilities to support putting someone full-time, an agency might be an excellent place to start.
As well as this, when hiring a marketing agency, you're hiring a team of people who are experts.
Instead of one person covering a range of roles, they might not be well versed in. You're hiring a team of people who are specialists in their field, whether that be Video Production, Copywriting or Graphic Design, who come together to assist you best.
(READ: Social Listening: What, Why and How Ultimate Guide)
You see poor results, and you're not sure why.
Sometimes, you're unsure why your blog posts, ads, or offers aren't performing as expected. When you're in the thick of it, it can be hard to step back and analyse the problem from a different perspective. Seeking a second opinion is almost always helpful when it comes to troubleshooting marketing issues.
If this is the case, a marketing agency might be the right tool you need to get back on track, especially if you're a solopreneur or entrepreneur and do most of the marketing work yourself.
Full-service agencies can save you time and money.
One of the biggest reason we see people seeking out the help of an agency is if you are a new or emerging business, things move fast in the digital age, and businesses grow fast.
Agencies can help a business scale and avoid the growing pains of getting a business off the ground. Marketing agencies can help scale their business to meet demand and keep these scale predictable and consistent.
There you have it, what is a marketing agency and what they can do for you. Let us know what you think in the comments down below!
(READ: The 4 KEY Elements of Effective Social Media Videos)
We want to hear from you! Follow us on LinkedIn, Facebook and Instagram to keep up with us, get our notifications and start a conversation!